Well led by experienced Guyanese wicket-keeper Anthony Bramble, the West Indies 'B' team enjoyed a wonderful Global T20 Inaugural Season, at the Maple despite playing against a galaxy of far more experienced International stars.
The "Windies Bees", with an average age of 22, surprised many by reaching the Final with great team cricket before their worst performance in the tournament saw them being beaten by Chris Gayle's Vancouver Knights. West Indies 'B' won their first four matches but lost the next two leading up to the finals.
Vancouver Knights collected $500,000 Canadian dollars, while the Windies B took home $250,000 in addition to earning Cricket West Indies some big 'bucks' for sending a squad to the three-week tournament as one of the six participating teams.
The tournament included 22 matches and according to Cricket Canada's President Ranjit Saini the West Indies is a sponsor of the League and partnered to assist Cricket Canada in the conduct of the tournament and got a fee for sending a team. Former West Indies captain and batting maestro Brian Lara was also the tournament Ambassador of the Mercuri Canada Ltd owned League.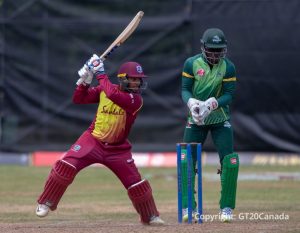 The West Indies B Team's commendable overall tournament results were boosted by the outstanding performances by Guyanese all-rounder Sherfane Rutherford. The 19-year-old Rutherford scored the only century in the tournament with a sensational unbeaten 134 from just 66 balls and his 10 sixes equaled Evin Lewis's 10 during his 96.
Rutherford reached the boundary 17 times and cleared it on 19 occasions in compiling 230 runs and was only behind Simmons (23) and Andrew Russell (20) for the most sixes in the tournament. Rutherford also scored more than any of his team mates although Nicolas Pooran (176), Justin Greaves (171), Fabien Allen (169), Brandon King (179) and Shamar Springer (133) all scored fifties.
Only 21-year-old St Lucian Obed McCoy, who had 11 with a best of 4-22 and 29-year-old Jamaican Derval Green with eight wickets, got more wickets than Rutherford's seven for West Indies 'B'. Only Lendl Simmons (321) and South African Erasmus van der Dussen (255) scored runs than the left-handed Rutherford who hails from Enmore and plays his Guyana Club cricket for the Demerara Cricket Club.
As a result of his outstanding Canada Global T20 performances the still teenaged Rutherford, who previously would likely have been unknown to most West Indies cricket fans, may have advanced his claims to the Regional Selectors for a Senior team pick in the not too distant future. Definitely 'One to watch!"