Ashtan Deosammy-Canada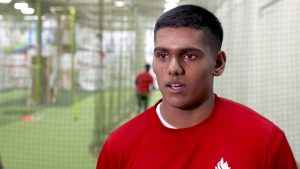 Full name Ashtan Deosammy
Born September 18, 2000, Etobicoke, Ontario
Current age 18 years 90 days
Major teams Canada Under-19s
Batting style Right-hand bat
Bowling style Right-arm offbreak
Recent matches
Sixteen-year-old Ashtan Deosammy, who was born in Canada to Guyanese parents, Vengasammy and Dropattie Deosammy, has been making a name for himself at the youth level since representing his club Qasra Cricket Academy in Under-13 competitions and according to his coach Sheriff Bodhoo, Deosammy lives and breathes cricket.
Boodhoo, himself a Guyanese who hails from Vergenoegen, East Bank, Essequibo, pointed out that Deosammy has been one of his brightest prospects in his academy which has a reputation for producing quality players over the years.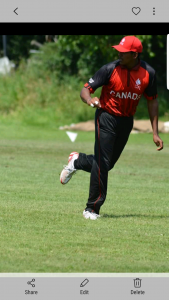 Apart from representing the academy, Deosammy also plays for Transac Sports Club in the Toronto & District Cricket Association at both the senior and junior competitions, namely the Under-16, Under-18, Second and Elite divisions.
An all-rounder who bats right-hand and also bowls off-spin, Deosammy is credited with almost single-handedly winning the Under-13 title for his team, blasting an undefeated 142 not out against Malton Sports Club in the 2013 final while he also hit a top-score of 81 versus Australasia Cricket Academy in this year's Under-18 semi-finals. His team were primed to compete in the final versus Oakville but unfortunately the game was rained out, forcing the teams to share the winners' trophy.
Deosammy was also part of the Canadian Under-19 side which captured the ICC Americas Under-19 title, competed for against the USA and Bermuda earlier this year. They also participated in the one-day version of Cricket West Indies Under-19 tournament in the Caribbean.
Deosammy was also a member of the Canadian national squad which participated in the New Zealand hosted ICC U-19 World Cup this past January. Canada;s U19 youths performed quite creditably at the Tournament finishing ahead of all the other ICC Associate countries that participated.
.