Bhavindu Adhihetty started playing his cricket at the age of 7. He played School cricket at Colombo, Sri Lanka's Wesley College and made impressively steady progress through the U11, U13 and U17 ranks. He also joined Colombo Cricket Club (CCC) and played under the guidance of the Club's Coach: Nelson Mendis.
Having migrated to Canada in 2010 , Bhavindu joined Centurions Cricket Club to play Under13, U15, U17, and U19 cricket. The combined guidance of Centurions' Coaches, Shanti Kumar and Dhanuka Pathirana, helped him excel through the Club's junior system. In 2014 Bavindhu met Anusha Samaranayake, a Sril Lankan National team Coach. He took Bhavindu under his wing , continuously helping him to improve his batting technique to a different much higher level. As a result Bhavindu was able to perform tremendously in his debut 2016 T&D Super Six Season, scoring an aggregate 724 runs to becoming the 3rd highest run scorer in the entire Tournament.
On those performances and with growing confidence he was able to play in Sri Lanka's Under 23 Tournament at the age of 16 with the direct guidance of Coach Anusha Samaranayake.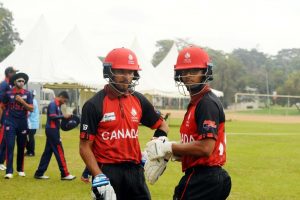 Prior to the ICC Division III Tournament, Bhavindu was also a member of Canada's Squad for the 2016 ICC U19 World Cup. In July 2017 he was appointed Captain of U19 Squad to the ICC America's Under 19
Championships.
In January 2018, Bhavindu was named to Canada's Squad for the ICC World Cricket League Division II Tournament. He made his List A debut for Canada on February 8, 2018. During this past 2018 T&D Season, Bhavindu amassed 505 runs averaging just under 40 with one century and four half-centuries. All this at the very top level of Canadian Cricket and now aged only 18. A Canadian Batting Prodigy indeed.