Duckworth-Lewis was the decider as Canada defeated Denmark by 48 runs in their rain affected September 25 CWC Challenge Group A match in Malaysia. Set a revised target of 221 off 33 overs, after Canada batting first had scored 302/8 (50), Denmark only managed to reach 172/9, 48 runs short of their victory target.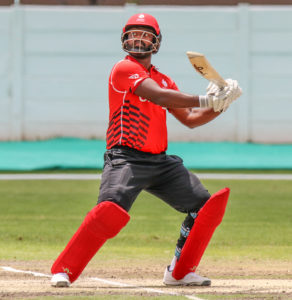 The Canadians formidable 302/8 (50) was built on yet another impressive half century from their Mr. Solidity middle order batsman, Srimantha Wijeyeratne. He scored an aggressive 80 ball 84, with 12 boundaries, before he was unfortunately run out just sixteen runs shy of what would have been his second century of the Tournament.
Wijeyeratne featured in a 73 run partnership with Harsh Thaker that helped restore some stability to the Canadians' innings, after the first three wickets had fallen for 96 by the 21st over. Rodrigo Thomas 16 (20), Abraash Khan 42 (58) and Nitish Kumar 6 (13) were the first three Canadians to lose their wickets. The twenty-two year old Thaker's contribution to Canada's score was a composed 27 made off of 50 balls with just two boundaries.
Wijeyeratne's wicket fell off the fourth ball of the 45th over with Canada's score on 206/5. Ravinderpal Singh 43 (41), Hamza Tariq 22 (15) and Saad Bin Zafar 34 (14) then produced some ultra aggressive hitting to help Canada add a further 96 runs in just 26 balls, as the score progressed to 302/8 at the end of the 50 overs.
Bowling for Denmark, Oliver Hald 2/60 (10) was the most successful bowler. He was one of seven bowlers used by Denmark's captain, Hamid Shah, in his at times desperate attempts to stem the Canadian onslaught.
Set a daunting 303 to win off 50 overs at a required run rate of 6.06, Denmark got off to a disastrous start, losing opener Jonas Henriksen for 0 off the second ball of Romesh Eranga's opening over. Skipper Hamid Shah 52 (68) and Zameer Khan 60 (72) then combined for a 100 run second wicket partnership to steady the innings.
The loss of Khan, caught behind by wicket-keeper Hamza Tariq off of Eranga's bowling however, triggered a major collapse as Denmark lost a further seven wickets for just 35 runs in its desperate, forlorn chase for the required runs. It was only a 36 run partnership between Anique Uddin 23 (21) and Abdul Hasmi 14 (12) that allowed Denmark to progress to its eventual total of 172/9 (33), thereby reducing the margin of defeat to a somewhat more respectable 48 runs.
Canada's spin twins Saad Bin Zafar 3/28 (7) and Nikhil Dutta 3/38 (7) were the primary wicket-takers. Romesh Eranga chipped in with 2/38 (6) while Nitish Kumar claimed 1/39 (6).
Summarized Scores:
Canada 302/8 (50), Wijeyeratne 84 (80), Singh 43 (41), Bin Zafar 34 (14), Hald 2/60 (10)
Denmark 172/9 (33 DL), Khan 60 (72), Shah 52 (68); Zafar 3/28 (7), Dutta 3/38 (7).
Canada won by 48 runs.