Inspiringly lead by Nitish Kumar's outstanding all-round heroics with both bat and ball, Canada romped to an easy 115 run victory in its Kuala Lumpar Kinkara Academy Oval, Malayisa hosted September 22 ICC CWC Challenge League Group A match against Qatar. Kumar's 84 ball 129 which included 12 fours and 6 sixes, was the backbone of the Canadians' massive 379/4 posted total in its completed 50 0vers. Kumar then almost single-handedly took matters in hand with the ball, capturing 5-72 off nine overs to help Canada's demolition of Qatar's innings which was completely folded in the 49th over at 264/10. 115 runs short of the 380 victory target.
Having won the toss and decided to bat the Canadians got off to a solid start. Openers Rodrigo Thomas and skipper Navneet Dhaliwal posted 97 for the first wicket off just 17 overs. They were however then both dismissed within balls of each other. Dahliwal was the first to go, bowled by Iqbal Hussain for a 54 ball 38 which included 6 fours and 1 six. Thomas followed just two balls later, caught by Dharmang Patel to give Hussain his second wicket of the over. Thomas' 51, made at a run-a-ball, was comprised of 5 fours and 3 sixes.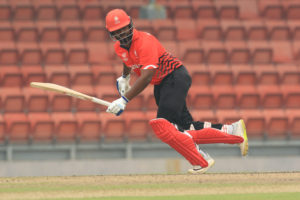 Any hopes Qatar's bowlers may have harbored over making further rapid inroads to the Canadian batting order, were just as quickly decimated by a massive third wicket partnership between Nitish Kumar (129) and Srimantha Wijeyeratne (112). The pair added 230 runs in just 27.4 overs, scoring at an average rate of 8.39 runs per over. Wijeyeratne's 112 was made off of only 94 balls and included 14 fours.
After Kumar had finally fallen, caught by Awais Malik off the persistent Iqbal Hussain off the second ball of the 45th over, Wijeyeratne and Ravinderpal Singh then added a quickfire 39 in just 24 balls. Wijeyeratne was bowled by Munaweera of the final ball of the 39th over for his 94 ball 112, which included 14 fours. Singh's undefeated 38 was made off of just 16 balls and was punctuated by three fours and 2 sixes. Hamza Tariq was also left undefeated, having not troubled the Scorers, as the Canadian innings closed at 379/4 (50 overs).
Bowling for Qatar, Iqbal Hussain captured three of the four Canadian wickets to fall. His figures were 3/88 (10). Gayan Munaweera 1/91 (9) was the only other wicket-taker.
Set 380 to win at a required run rate of 7.6 runs per over, Qatar got off to an impressive start. The openers, Kamran Khan and Saqlain Arshad posted 149 for the first wicket off just 25 overs. The loss of Khan lbw to Saad Bin Zafar for an 83 ball 68 which included 3 fours and 5 sixes, however created somewhat of a mini-collapse as Qatar then lost a further 6 wickets for just an additional 1oo runs.
Saqlain Arshad was the first of Nitish Kumar's eventual five victims, caught and bowled for a well played 88 ball 97, just two runs short of what would have been a deserved century. Arshad's innings included 13 fours and 2 sixes.
Mohammed Rizlan's 37 ball 32, which included 3 fours and 1 six was the only other score of note as Qatar's batsmen fell to the wiles of Kumar and his fellow Canadians in fairly rapid succession. Kumar's 5/72 (9) was well supported by the ultra economical efforts of Cecil Pervez 2/34 (9) and Saad Bin Zafar 2/39 (10).
The September 22 victory over Qatar placed the Canadians firmly at the top of the pointing standings with a hundred percent record of three wins from as many matches played.
Summarized Scores:
Canada 379/4 (50 overs)l N Kumar 129 (84), S Wijeyeratne 112 (94), Ravinderpal Singh 38* (16); I Hussain 3/88 (10)
Qatar 264/10 (48,5), S Arshad 97 (88), K Khan 68 (83) M Rizlan 32 (37); N Kumar 5/72 (9), C Pervez 3/32(9), S Bin Zafar 2/39 (10)
Canada won by 115 runs!