A less than adequate score, coupled with some shoddy fielding and punctuated by at least one highly dubious unfavorable umpiring decision, resulted in Canada's valiant efforts to defeat Jamaica in their November 18, Cricket West Indies Colonial Medical Insurance Super50 repeat encounter eventually falling just short of the desired outcome for the Canadians. Led by Dennis Bulli's steady bowling and Nkrumah Bonner's purposeful batting, the Jamaica Scorpions defeated Canada by three wickets to clinch their third successive Colonial Medical Insurance Super50 Cup victory.
After winning the toss and deciding to bat on a Conaree pitch that seemed ideally suited for batting, the Canadians, on the back of a half-century from Harsh Thaker, fought to reach 244 for nine from their allocated 50 overs. Thaker struck four fours and one six in 60 from 85 balls in an innings which came on the heels of the Canadians best opening partnership to date for the Tournament and which had promised to take their eventual tally to a much higher score.
Canada's opening pair of Rayan Pathan and Jeet Metha shared a first wicket partnership of 69 before the former became the first of Dennis Bulli's eventual four victims, bowled for 33 off the third ball of the 13th over. Pathan's 32 was made off of 42 balls and included a six and five fours.
Mehta followed  soon after, dismissed in identical fashion for a 52 ball 32 that included one six and four boundaries. The further loss of the returning injury recovered Arslan Khan, caught by Jermaine Blackwood off Bulli's bowling, left Canada struggling at 92 for three in the 20th over. Thaker then led a minor recovery in a 56-run partnership with Kumar 42 (50) and a couple of additional small stands with his captain Kanwarpal Tathgur 13 (14) and Shahid Ahmadzai 12 (17).
Kumar's very tame dismissal, caught by Nicholas Gordon in the very last over off Bulli's highly impressive and ultra penetrative 10 over spell, was a most unfortunate setback for the Canadian batting effort. As the most experienced of all the Canadian players and in his role a mentor to his much junior teammates, Kumar would have been far better advised to have a played a far more defensive shot to see Bulli off!
The loss of Kumar left Canada at 148-4 after 34.3 overs. That very quickly became 212/8 as five further wickets fell, including that of Thaker off the very last ball off Andre McCarthy's 10 over spell.
Shreyas Movva, the Canadian wicket-keeper, then featured in a stand of 32 with Kanwar Mann that frustrated the Scorpions in the final five overs. Movva made 21 from 17 balls before he was the last man dismissed, run out attempting a suicidal second run off the very last ball off the innings. Mann was left not out on 11 (14) as the Canadian innings closed on 244/9, just one run more than the 243 all out they had posted in their November 16 initial encounter against the Jamaicans.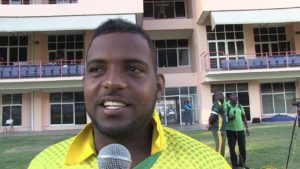 Bowling for Jamaica, Bulli finished with the impressive figures of 4/40 (10). He was well supported by discarded West Indies pacer Oshane Thomas, who bowled with at times fiery pace to finish with figures of 2/39 (10).
In pursuit of 245 to win, Nkrumah Bonner showed his class in an organised, unbeaten 73 from 79 balls that included eight boundaries to lead a successful run chase for the Jamaica Scorpions. The Scorpions were 81 for three in the 20th over, when Bonner arrived at the crease.
That should have been 83-4 for after having scored just two runs, Bonner was the beneficiary of the umpire's refusal to respond positively to the Canadian's vehement appeals for a leg before decision on a delivery from Anwar Mann that appeared to have struck him plumb in front. The television replays clearly showed that had Bonner's pad not been in the way, the ball would have clearly missed either of his off or leg stumps en route to crashing into the middle stump!
In celebration of his good fortune Bonner then struck the clearly despondent Mann for two mammoth sixes and one four in his very next over. He then anchored a succession of partnerships that eventually got the Scorpions over the finish line.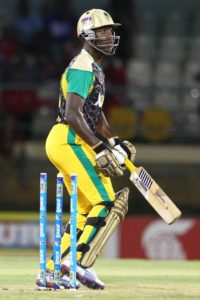 Bonner shared 85 for the fifth wicket with his captain Rovman Powell that changed the course of the innings. The fall of Powell bowled by Mann for 38 (44) left the Jamaicans at 187/5 still needing another 58 runs with 13.3 overs remaining. Two further wickets fell to catches behind the stumps by Movva who otherwise had a most forgettable day as a wicket-keeper. The first of those was Dennis Smith, caught behind , off Kumar for 19 (26) followed by Dorval Green, dismissed in similar fashion off Harsh Thaker's bowling for 3(5).
Bobber however remained steadfast and unmovable to the end, which came with 13 balls remaining when Bulli lofted a delivery from Nitish Kumar to the deep cover boundary for four. Yet another valiant and highly commendable effort by the inexperienced Canadians to defend what was clearly an insufficient total at the Conaree batting paradise fell just short of their desired outcome.
Summarized Scores:
Canada 245/9 (50) H Thaker 60 (85), N Kumar 42 (50), R Pathan 33 (42) J Mehta 32 (52); D Bulli 4/40 (10), O Thomas 2/39 (10)
Jamaica 246/7 (47.5) N Bonner 73 (79), A McCarthy 40 (35), R Powell 38 (44);  R Pathan 2/33 (7).
Jamaica won by 3 wickets!
https://www.espncricinfo.com/series/8853/scorecard/1203626/jamaica-vs-canada-group-a-super50-cup-2019-20