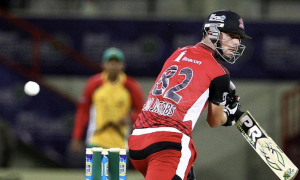 Having been appointed to the Canadian captaincy for last year's Cricket West Indies hosted Caribbean Regional Super50 Competition, South African born Davy Jacobs will again be at the helm as Canada gets set to vie for supremacy in the upcoming International Cricket Council (ICC) World Cricket League Division 2 Tournament to be held in Namibia, April 20-27.
Davy started playing his cricket at a really young age and had become a pro by the time he was in his late teens at age 17 or 18.   He played his domestic professional cricket in South Africa for the Warriors and Eagles cricket teams until he officially announced his retirement in 2015. He then moved to Canada that same year and assumed a position as head coach at OCA (Ontario Cricket Academy).
In 2016 he coached the Canadian National Team. He became qualified to play for Canada last year and after careful consideration decided to forsake his previously announce retirement by picking up his bat and donning his wicket-keeping gloves towards Canadian cricket's worthy cause. Shortly after he was appointed captain of the Canadian national team to lead its participation in the recent West Indies Super50 Regional Competition.
Tall and taciturn, flinty and fastidious, Davy Jacobs is the kind of cricketer any captain would welcome into his team. For the first seven seasons of his career, his captains at Eagles and then Warriors knew they could depend on his forthright batting and solid wicketkeeping. Then the Warriors took the logical step of appointing Jacobs as captain. It took him just two seasons to repay that faith, when he guided his team to triumph in the Standard Bank Pro20 and the MTN40 in the summer of 2010-11, the first trophies ever won by the Eastern Cape franchise
Before journeying to South Africa, the Jacobs led Canadians played a series of practice matches in Sri Lanka leading up to the ICC World Cricket League Division 2 tournament. Canada will start their campaign against Hong Kong on the opening day. Other teams in contention are Namibia, Oman, New Guinea and USA.
According to the world's governing body, the tournament will have important ramifications for qualification for the ICC men's Cricket World Cup (CWC) 2023. The Namibia Division II Qualifiers top four teams will join Scotland, Nepal, and the United Arab Emirates in the ICC CWC League Two 2019-21. Each country will play 36 One-Day Internationals over a two-and-a-half year period in 21 tri-series. The top three in this table will qualify for the CWC Qualifier, from which the top two sides will qualify for the CWC 2023.
The ICC has also indicated that for the bottom two Division II sides this won't be the end of their CWC dream. They will enter the CWC Qualifier Challenge League A and B, from which the winner of each will progress to the CWC Qualifier play-off. The top two sides in the CWCQ play-off, which will also contain the bottom four sides from CWC League 2, will enter CWC Qualifier 2022.
As he leads his Canadian charges onto the field for their April 20 Division II Qualifier opener against Hong Kong, Davy Jacobs will therefore be fully cognizant of just how much is at stake for Canada to be at its best during the tournament. Go Team Canada!