October 7, 1999 was the birthdate of a Canadian born future cricketer who could yet develop into one of Canadian cricket's brightest ever stars. By the time he'd turned 18 Faisal Jamkhandi was already attracting global attention by becoming Canada;s leading wicket-taker at the 2018-2019, New Zealand hosted ICC U19 World Cup. Faisal's 5-48 against Bangladesh was the very first five-for in the entire Tournament.
Mississauga, Ontario the Canadian City within which Faisal lives is a difficult place to be a cricketer. The sport is almost entirely restricted to the summer months here, thanks to the winter snowstorms, so players are invariably forced to train indoors or left to find ways to play abroad. Some travel to the nearby Caribbean, others move to the United States in search of match time with club teams.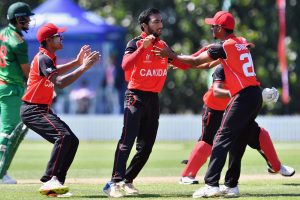 For his pre World Cup training Faisal Jamkhandi traveled a slightly longer distance – to India, where his parents came from. It was as a result of his father's direct influence that Faisal had initially become interested in cricket. He'd seen his father stay up and watch matches from back home at very odd times thanks to the time zone.
As a youngster Faisal was a natural athlete – he had won a number of junior track and field events in Canada. As such it was perhaps only natural that he would choose fast bowling when he began playing cricket as an 11-year-old.
"Training indoors was kind of frustrating, so I needed solid practice and matches, which isn't always possible in Canada because of the weather," Faisal told ESPNcricinfo following his Bangladesh heroics. "It was partly because of this that I decided to move out of my comfort zone to play cricket. Cricket in Canada is largely restricted to the summers, it can get a little stifling for aspiring players because you don't get too much match practice. That's why I chose to train abroad."
During the four years prior to the New Zealand hosted 2018 U19 World Cup, Faisal had actually spent the six Canadian winter months in India, availing himself of all the resources that hotbed cricketing country had on offer. Three years ago, he trained with Ian Pont, the former English first-class cricketer who is now a respected fast-bowling coach, in Bangalore, where he worked on his strength training. Later he moved to Pune to train under Surendra Bhave, the former Maharashtra batsman who has coached in the Ranji Trophy since his first-class retirement after a 15-year career.
By the time he was 17, Faisal was consistently clocking speeds above 130kph in Academy matches. He'd even earned praise from the former England fast bowler Alex Tudor, now a Level 3 coach in England.
The experiences he'd garnered and the lessons learnt during each of his winter season his India excursions were readily put into practice when Faisal returned to his Canadian home base to play for the Mississauga Ramblers Cricket Club. As a right arm, fast medium bowler and right hand lower order batsman, he has become a regular member of the Ramblers team.
"We have a number of cricketers who bring teams," Faisal notes of his Canadian cricket experiences. "Desmond Haynes has brought his Under-19 sides. We've traveled to Barbados to play in the Gary Sobers Under-19 tournaments. There are also some excellent coaches like former South Africa first-class cricket Davy Jacobs, who now lives in Canada."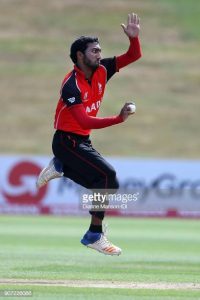 Having completed his High School studies Faisal has applied to Universities in India and England to pursue his cricket. He hopes to enroll for the next academic year, and wishes to some day make Canada's senior team. "I know it's tough, but my goal is to play for the national team," he says. "That could take time, it could happen immediately, but I'll try to keep training hard and let the rest take care of itself."