The Caribbean Premier League's Jamaican Tallawahs will continue to be island based and will not be moving its headquarters to Florida as proposed. Tallawahs CEO confirmed the decision during an April 9 briefing with local media.
While underlining the owners' decision to keep the Caribbean Premier League (CPL) franchise in the island, Jamaica Tallawahs CEO Jeff Miller noted that the organisation is not seeking any handouts and is calling for a stronger relationship between the organisation, the government and local private sector interests.
Miller will soon be back in Jamaica to finalize discussions concerning support for the franchise, ahead of the next CPL season, which begins in late August.
"We have decided that the franchise will stay in Jamaica. We are still talking to the Government and we are still talking to corporate Jamaica. Nothing has been confirmed yet, but we are still having discussions," Miller told local media.
"I am hoping these discussions will bear some fruits. We are still open and we still continue talking to each other, which is good, because instead of talking against each other, we are talking to each together and that's a positive sign. I hope to be in Jamaica shortly, by next week, as time is of the essence. So hopefully by next week there is something more definite and something more positive on what's going on," Miller said.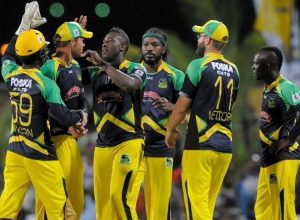 The future of the Jamaica Tallawahs franchise was cast in doubt following last season's CPL campaign, amidst threats of moving the franchise to another territory due to insufficient support from local interests.
Jamaica's Sports Minister, Olivia 'Babsy' Grange, who had earlier noted that the government was not in a position to assist the privately-owned team, arguing that its limited resources must be focused on the over 40 national associations, announced in January this year, that the government, in collaboration with corporate Jamaica, would in fact be looking at ways to assist the franchise.
It was reported that the Tallawahs were in need of more than US$1.5 million ($193.3 million) each year for the next three years.
"At this time, I have no numbers to give, but discussions are happening and next week I will be here and I am hoping to finalize some numbers," Miller pointed out.
Meanwhile, while admitting that representing the Jamaican brand has been a significant part of the Tallawahs' popularity, Miller argued that it was a two-way street, as the Tallawahs also give the Jamaica brand huge mileage internationally.
"Yes, Jamaica is a global brand, it is the most recognized franchise in the CPL, but the folks in Jamaica have to understand that the Tallawahs also bring value to Jamaica that has been missing. Folks have to understand the economic impact that the Tallawahs bring. It is shown in over a 101 countries, over 200 million people watch the games, and that's real coverage," Miller commented.
He added that it was tough for the franchise to continue under the current financial difficulties.
"Folks talk about commitment, but they got to understand that we got bills to pay. If we can't pay the players' salaries, they are not going to play. If we cannot pay airfares or their accommodations, what's gonna happen? So it's a business, that's what we are running, not a charity. We are not asking for handouts, we are asking for a private-public partnership with government and corporate Jamaica. I am not looking for sponsors, we are looking to create a partnership that at the end of the day Jamaica benefits from what we done," Miller said.
The Tallawahs are one of the most successful teams in the CPL, having won the title in the opening season in 2013 and again in 2016.