JB Masters Cricket Club (JBMCC formerly Brampton Masters Cricket Club) was established in 1996, by a group of friends with the goal of keeping the culture of cricket alive in Brampton. Initially established as a non-profit organization, JBMCC provides an opportunity for talented young cricketers to train under the guidance of professional coaches. As a club JBMCC is committed to improving the quality of cricket regionally, nationally, and internationally. The Club's guiding premise is to involve community, parents, and youth in cricket programs that will allow everyone to benefit.
As a Canadian Cricket Club JBMCC's established Objectives are as follows: training cricketers in the most advanced skills of the game, within the best possible coaching environment; providing players
with opportunities to experience the highest levels of competition; enhancing players' love of the game; supporting each player's dream of participation in competitive play and sharing each player 's pride in achieving established personal achievement targets.
JBMCC's has also identifies a set of goals for its pursuance as a Club. These are as follows: Providing an environment for the Players to perform to the best of their abilities; providing specific training for all players in their area of expertise; offering financial assistance and support for BMCC players and establishing a disciplined environment.
After many years of dominance in The Commonwealth League, the Club shifted its focus in 2001 to the Toronto and District Cricket Association League, Canada's oldest and most established cricket competition. This meant starting from the very bottom of the League in order to gain respect, as a club to be reckoned with.
The Club's shift can be attributed to the new leadership and focus that realized the beckoning
o p p o r t u n i t y f o r c o n t i n u e d s u c c e s s . Progressively JBMCC for the next 5 years won every division, and as a result gained promotion year after year. In its first year after having been promoted to the T&D's Premier Division the Club stamped its mark by winning the Season final convincingly, thereby becoming the only club in the TDCA's illustrious 85 plus year history to have achieved this goal.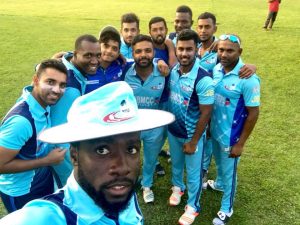 With the formation of the TDCA's Elite division, JBMCC was automatically one of the teams promoted and duly went on to win that title as well. JBMCC are also currently Champions of the newly created Super Elite League. This makes JBMCC the only club in Canadian Cricket history to have won every available title.
JBMCC also proudly boasts a reputation that has welcomed players from around the world to play
cricket in Canada. The club has a strong and focused Executive Board, an excellent coaching staff and a number of programs for players at all levels of the sport.
JBMCC's motto is Life Goes On. In observation of its adopted motto JBMCC welcomes to its rooster
anyone who has a passion for the game and is committed to working and being part of a successful
Organization.
2016 was the most difficult year for the Masters family. The tragic passing of its most dedicated
and successful Sports Director Mr. Johnny Bujan left all members in a prolonged state of shock and grief. In honor of his memory and as a family, JBMCC's members have since committed themselves to carrying on his legacy together for many years to come.