Born in Bardoli, Gujarat, India Yax Patel spent his earliest days as an aspiring cricketer wanting to be just as successful as his idol, India's Test and ODI all-rounder Ravindra Jadeja. Having seen Jadeja bowl, Patel wanted to be just like him. Patel's cricket career began as a ten year old, playing in Bardoli, Gujarat's Domestic Under 12 Competition.
Having moved to Canada at age 14, Patel immediately started playing domestic cricket in Edmonton, Alberta where he and his family had taken residence. As left arm spinner he now still plays his Club cricket in Edmonton in that city's District League. Patel's cricket aspirations have however long since been transformed. His now fervent desire is to become a regular member of the Canadian national team.
Towards the fulfillment of that goal, Patel has been working very hard on improving both his cricketing
skills and his fitness levels during the off-season. He has also regularly sought the mentorship advice of
Nitish Kumar. Patel had first sought and received Kumar's mentorship support last November. Back
then they were both members of the Canadian Squad that was participating in the St Kitts hosted
Zone A matches of the Cricket West Indies 2019 Colonial Medical Insurance Regional Super50
Championship.
That Tournament, his very first in Canadian representative colours, had opened Patel's eyes to
the monumental difference in required standards in international cricket and those he had become
accustomed to back in Edmonton and other parts of Canada. Patel's first exposure to both provincial
and national level cricket within Canada had been back in 2014 when as a 16 year old he had made his
debut for Alberta in the Western T20 Tournament.
Patel's selection to the Alberta T20 Team had been made possible by his having twice captured over 50
wickets in back-to-back Edmonton District League Seasons. During 2014 Patel was also invited to
participate in the Toronto hosted U17 Canada Cup.
In the five year period between 2014 and 2019, Patel's cricket skills developed to the point where he was invited to participate in Canada's U19 and Development Team Camps. Patel was also drafted, as one of the Montreal Tigers Franchise's Canadian players, for the 2019 GT20 Tournament. His GT20 experience provided Patel with Tournament long, highly valuable, exposure to both the coaching skills of Australia's Tom Moody and the Franchise captaincy of George Bailey.
Yax Patel made his Canadian national Men's Senior Team debut during the Cricket West Indies 2019 Colonial Medical Insurance Super50 Championships. Playing as a left arm spinner, Patel's first match of the Tournament was Canada's November 8 clash against their Zone A hosts the Leeward Islands.
Patel bowled 7 fairly economical overs during his debut appearance in Canadian national colours,
capturing the prize wicket of West Indies Test and ODI Opener Kieran Powell, en route to figures of
1-35. Batting at number 11 and as the last man in, Patel remained not out on 9 as Canada was bundled
out for 187, falling 70 runs short of the 257 run victory target that had
been set by the Leewards.
Altogether Patel appeared in five of the eight matches Canada played during the Tournament's
St Kitts hosted Zone A matches. His returns at the end of the Tournament were just 3 wickets from 20 overs bowled, at an average of 31.66 and a 4.75 economy rate. His batting yielded only 10 runs
from 4 innings batted at a paltry 3.33 average.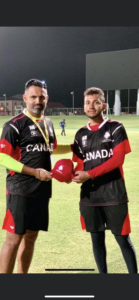 Having been exposed to the harsh performance realities and much superior expectations of international cricket, Yax Patel should now be fully aware of exactly just how much his own game will have to improve if he is to indeed fulfill his stated objective of becoming a regular member of Canada's national
senior team. The willingness to do the work required, as well as the determination to succeed that Yax Patel has demonstrated so far, should however definitely qualify the further development of his cricket career as 'One To Watch!