By Varun Desai
Sultan Khan hails from Islamabad, Pakistan, a country in South
Asia, famous for its cricket fervor. Back in 2013, Khan migrated
from the United States to make Canada his home. Presently,
Khan resides in Mississauga, Ontario, where he owns a sports
store named Arsak Sports that specializes in sports equipment and
apparel.
Khan's involvement with cricket goes a long way. Being born in a family of cricket lovers, he has been associated with the Cricket Council USA, the sport has been a way of life for him. Khan supports MAQ TV and all the necessary events & tournaments by CCUSA. Such as the USA Open. He has played League cricket within the USA as well.
Having relocated to Canada, Khan soon joined the erstwhile Brampton Masters Club, now known as the JB Masters. It is there that Khan came in contact with the Who's Who of Canadian cricket. His pleasant personality and helpful disposition has since earned Khan many a friend within the community. As a player, Mr. Khan continues to play for Mississauga Ramblers
one of the oldest clubs in Canada.
His JB Masters involvement proved to be the foundation for which the call for cricket related entrepreneurship dawned upon Khan. True sportsmen do not easily move away from the game they love the most, even when they have to exit the actual field of play. The same was true for Khan. "Cricket is not just a hobby, it is my passion. You can leave cricket but cricket
doesn't leave you."
Khan wanted to remain in cricket albeit a different way. So in
2019 he opened Arsak Sports, a one-stop cricket store located
in Mississauga. One thing led to the other and Khan got more
and more involved with the sport.
An avid lover of cricket, Khan's knowledge about the sport
is commendable. He follows world cricket with a singleminded
dedication. Like any other Pakistan- born fan, cricket
is a second religion for Khan and his emotional attachment
with the sport is quite palpable.
With 105 countries playing cricket the competition is tough,
feels Khan. There is a total change in scenario, it is not what
it used to be even a decade back, shares he. The challenge is
even bigger for a country like Canada that is yet to achieve
the coveted status of being an International Cricket Council
(ICC) full member.
There is plenty of talent in the country but for Canadian
cricketers, the game cannot be a full- time career as it is
financially not as rewarding as for their peers who belong to
the top cricketing nations like India, West Indies, England,
Australia Pakistan, Bangladesh and the like.
Khan identified an opportunity to contribute meaningfully
to the funnel support system that is currently, still somewhat
lacking in Canadian cricket. Young Canadian cricketers
constantly find it difficult to afford cricketing gears which can
range from $390- $650.
Khan on behalf of Arsak Sports has often come forward to support these budding talents." They should be less worried and focus more on the game, ultimately the goal is to have Canada regain ICC ODI status," says Khan with a glimmer in his eyes.
Focus and dedication have been the hallmarks of Khan's business practice. Instead of crunching numbers, he's focused on building a community of clients who would visit Arsak Sports repeatedly because of the value and expertise that the Owner offers.
Innovation has played a key role in Khan's mission. He first started with retailing branded items, but soon enough discovered that cricketers from college cricket and smaller clubs also could not pay the high premium for branded sports gears. So he started manufacturing indigenous cricket gears. This effort enabled Khan to send free gears to Guyana, to support young players in the Caribbean. His brand is now recognized by India, Sri Lanka, Trinidad & Tobago, England, Pakistan and several other countries as well. Many other companies are also now in discussion with him for business collaboration.
One can have everything in life one wants if one is willing to help enough others to get what they want. So Khan has taken the initiative to motivate young players by making them Brand Ambassadors for his company. That has inspired young cricketers and has also resulted in a visible change in the mindsets of many individuals within their respective communities. They have started showing interest in the game, parents are encouraging their children to attend training and development camps and cricket has become a favorite topic for coffee table discussion within resident households.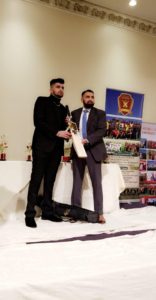 Khan reminisces with nostalgia about a young college cricketer who was struggling to get a berth in mainstream Canadian cricket. Khan gifted the youngster a cricket bat with which he scored his first century. It is the same for Cricket Canada as well, confirms Khan ."Once we qualify for World Cup participation, change will be inevitable. Until this is accomplished, it is going to be a hard walk".
The list of players that Khan has been supporting is long. To name a few, Khushroo Wadia represented Canada in T20 formats a few years back, since then Zishawn Qureshi, Parikshit Yadav and Shahid Ahmadzai who is a current Canadian national team player have continued to be the Brand Ambassadors & Sponsored Players for Arsak Sports.
The new normal caused by COVID-19 is going to pose newer challenges to cricket, feels Khan. A devout Muslim who does not miss his prayers, Khan feels thankful to God for His amazing grace." COVID-19 is for real and you cannot change it. Till the time vaccination becomes available, spend time with your family."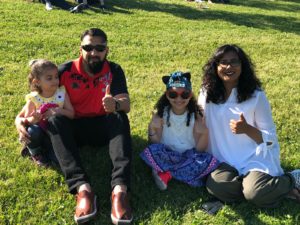 Khan is enjoying coaching his 9 -year old daughter on cricket in his basement. The young girl is an early starter as her father aspires her to represent Canada in Girls' Cricket first, and then later in Women's Cricket at international forums. Besides training his daughter, Khan is devoting regular work hours to his official commitments. When time permits after helping his wife with household chores, Khan engages himself in online courses to further upgrade his skills and knowledge.
Cancellation of cricket matches in the current scenario will have more serious consequences, the major one being a huge loss in revenue, feels Khan. "Ignoring cricket would have bigger implications, "he stresses. Empty stadiums will be the way forward, and extra precautions a must, Khan asserts.
"We are all praying for things to change". Khan concludes with a prayer for humanity.