20 Questions:Romesh Ernaga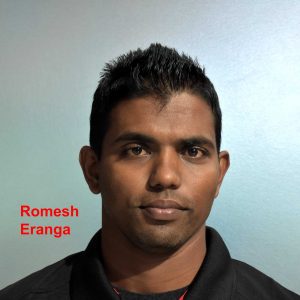 City of Birth 
Kandana, Sri Lanka
Favorite Childhood memory Playing cricket with the kids in my neighborhood
Childhood Ambition to play professional cricket in Sri Lanka
Favorite School Subjects Mathematics
Favorite Book Reading is my least favorite thing to do..
Favorite Movie Rocky Movie Series. I could watch this over and over again!
Top 5 Favorite TV Shows Walking Dead, Game of Thrones, Knightfall, CSI and Vikings
Favorite Food Spicy Sri Lankan food
Favorite Vacation Spot Sri Lankan Beaches. They are the best!
Greatest Young Adult Influence– My dad
Most Admired International Cricketer – Bowler Wasim Akram
Most Admired International Cricketer – Batsman Chris Gayle
Most Embarrassing Cricket Moment Giving away 31 runs in a single over at a Division D Mercantile match in Sri Lanka!
Most Memorable Cricket Moment Receiving the Man of the match award at the Super 50 cup in Trinidad
Cricketing Ambition To be a world renowned fast bowler
Favorite Sport outside of Cricket Rugby
Hobbies Outside of Cricket Working out at the gym and watching movies
Favorite Toronto Restaurant I live in Edmonton and my visits to Toronto have been really short. No favorite restaurant yet.
Music Most Listened To I like almost all kinds of music
Top 5 Bucket List Items A trip to the Amazon, go on a word tour, start my own business