By Joseph "Reds" Perreira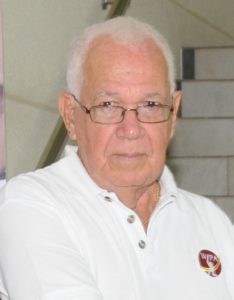 As I look back on March 19, 1971, I would now have to describe it as the day
that shaped my life towards a wonderful career of broadcasting cricket
for well over 40 years and from all parts of the world, except Bangladesh.
India were on their 3rd visit to the West Indies, having toured in 1953 and again
in 1962, a Series that would mark the beginning of my career as an international
cricket radio commentator.
By Joseph "Reds" Perreira
The West Indies – India 1970 Series started in Jamaica with a draw and to the shock of most West Indians, the
visitors took a one nil lead after winning the Trinidad 2nd Test by 7 wickets. Sunil Gavaskar on debut played an
important role with scores of 65 & 76 not out, providing an early indication of the dominant contribution he would
later make to India's eventual Series victory.
For the Guyana 3rd Test the West Indies made three changes, Steve Camacho
, Michael Findlay and Arthur Barrett were omitted from the team that had
lost the preceding Trinidad Test. Joey Carew and two debutants, wicketkeeper
Desmond Lewis and all-rounder Keith Boyce, were selected as their
replacements.
The West Indies-India 1970 Bourda 3rd test was my very first as a truly
international Radio Commentator. My previous experience as a cricket Radio
Commentator had been for twelve Caribbean Regional first-class matches,
the greater majority of which was for those that had been played in Guyana.
Only four, in Barbados, Dominica, Jamaica and Trinidad & Tobago during
the 1969 – 70 Shell Shield Season, had been for matches played outside
of Guyana. The Guyana Broadcasting Service (GBS) Radio Commentary
panel for the Test was comprised of Barbados' Tony Cozier, India's Berry
Sarbadikari and myself, with comments from Basil Butcher and the former
Guyana all rounder, C.H "Bruiser" Thomas
As a means of preparing myself for my international radio commentary debut, I had gone to Trinidad to witness
the 2nd Test. My primary objective in doing so was to get a closer look to the Indian players and as well to
familiarize myself with their names, some of which were somewhat challenging. While I was in Trinidad I also
recorded an interview with India's captain, Ajit Wadekar following their victory. I met with him in his hotel
room on the very next morning after the Test had ended. It was soon after breakfast and he was still in his
Indian pyjama robe but nevertheless elated to discuss his team's history making victory with me.
Back at home, I got very little sleep the night before the Test. I was up early as I had also committed myself to
chauffeur my fellow commentators, Tony and Berry, on my way to Bourda. As expected, the ground was almost
full to capacity by the time we got there. Guyanese cricket fans had been queuing up since 4 am, having come
from all areas of the country.
Naturally, I was hoping for the West Indies to win but the match ended in a disappointing draw. The West Indies
were actually saved from embarrassment by their debutant wicket-keeper Jamaica's Desmond Lewis, coming
in at number 7 and remaining 81 not out in a first innings total of 363. The second day crowd saw Gavaskar hold
the Indian innings together with his maiden Test 100 before falling to Sobers for 116 out of India's 376.
Thanks to a fine unbroken fourth wicket partnership
between Gary Sobers (108) and Charlie Davis (125), West
Indies declared on 311-3 to set India a victory target 294.
Already leading 1-nil, India did not take on the chase and
were 123 for none, with Gavaskar 64 not out and Mankad
53 not out after 30 overs.
My debut Test commentary was a life-changing
experience for me as someone who up until 1968 had
experienced major challenges with stammering, but
through sheer perseverance had managed to eventually
overcome. During the Test, I drew heavily on the
experience and contrasting styles of both of my fellow
commentators, Tony Cozier and Berry Sarbadikari. Cozier with his natural silky voice was typically boisterous and
excited in his commentary. Sarbadikari's was style was much more subdued with his very gentle, calming, heavily
Indian accented voice.
My next Test as a Radio Commentator wasn't until the 1971-72 West Indies – New Zealand Bourda 4th Test, when
the Kiwi's Glen Turner scored 259 as part of an opening partnership of 387 with Terry Jarvis (182) to break Clifford
Roach's seventy-two year old previous highest individual score ground record of 209 against England in 1930. That
Test also marked the debut of my fellow Guyanese Alvin Kallicharran, who scored his maiden 100 to celebrate the
occasion. Kalli followed his debut ton with another century immediately after during the Trinidad & Tobago 5th and
final Test.
Having broken the proverbial seal as a Commentator for
the Bourda Tests in the 1970-71 India and 1971-72 New
Zealand Series, my breakthrough year was soon to follow.
During the West Indies 1972-73 home Series against
Australia, I was invited to be apart of the Commentary
panel for the Tests in Jamaica, Barbados and Guyana, only
missing out on the two Trinidad Tests as a result of their
expressed preference for primarily local commentators.
That Series would eventually open the door to my
invitation to be a part of the Caribbean Broadcasting
Union's (CBU) Radio Commentary panel, along with Tony
Cozier and Hugh Croskill, for the first-ever World Cup to
be held in England in 1975!