Inspired by the past accomplishments of his father, Arjune Nandu, who represented both the West Indies and Guyana at the U19 Level before going on to play for Guyana's national senior team, Marcus Arjune Nandu, born April 18th 2000, is now seemingly well on the way to fashioning his own international cricket career. In doing so Marcus has also been inspired by his brother, Matthew, whom he says was always playing cricket and beating him whenever they played in the backyard. One day he decided he just didn't want to lose anymore so he made his dad teach him how to play. Since then the two Nandu brothers, Marcus and Matthew have grown up playing cricket together and now still do.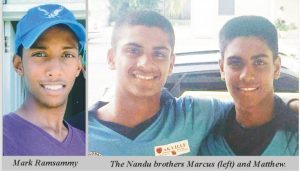 In the now five years (2013-2018) since he started playing in the Brampton-Etobicoke District Cricket League (BEDCL), Marcus Nandu has demonstrated impressively progressive improvement, albeit more so with bat than with ball. He'd started in 2013 as a bowling allrounder, capturing 38 wickets at a paltry average of 11.71; His run aggregate with the bat that year was only 29 runs. His wickets taken tally and overall average won him those respective awards for the BEDCL 1st Division. All that at just the tender age of 13!
In 2014 Marcus' BEDCL stats were 18 wickets at an average of 12.33 and 75 runs with a 15.0 average, The following year, 2015, they were   21 wickets at a 14.62 average and 129 runs at 14.33.
By 2016, the signs of real potential that Marcus' batting had already begun to demonstrate came to the fore as he scored 366 runs at a highly impressive 40.67 average, while capturing 21 wickets at a relatively meagre 21.67. He was also Oakville's leading wicket taker that year.
In 2017 Marcus' run tally increased to 428 and his batting average to 47.56. The captured wickets number was 21 at a 14.91 average. Marcus' 2018 bowling and batting stats were 13 wickets at a 28.62 average and 335 runs at 33.50.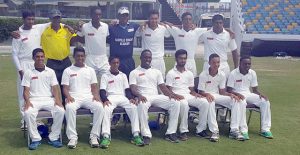 As part of his cricketing development Marcus Nandu has already had a fair degree of international cricket exposure. He has represented Oakville in the Barbados hosted Sir Garfield Sobers International Schools Tournament in 2015, 2016, 2017 and 2018. He also captained the Oakville Cricket Academy in this year's (2018) edition of the Sir Garfield Sobers tournament.   He led by example in capturing 7 wickets with ball and accumulating an ultra impressive 301 batting aggregate with a 60.2 average. His batting exploits were punctuated by 2 half centuries and one century, his highest score to date of 105. Prior to this year he had emerged as the leading wicket-taker for the 2016 Tournament, capturing 18 scalps with his leg-spin om the 9 matches he played.
As a result of his outstanding achievements, Marcus was selected as a Sir Garfield Sobers Schoolboy's International All Star for both the 2016 and 2018 Tournaments. He was also invited to participate in those Tournaments' respective Masterclasses.
Marcus Nandu now plays in the Toronto & District Cricket League Premier, Elite and 1st Divisions for Qasra Cricket Academy/Tranzac Cricket Club. He also captains the Kaieteur Cricket Club in Brampton-Etobicoke District Cricket League matches. Most recently he was selected as part of the 24-man squad for the Canadian U19 national team.
Marcus Nandu's cricketing aspiration, first and foremost, is to continue to enjoy cricket as a game he loves and always wants to play. His immediate goals are to continue to learn about his personal game and to strive for continuous and significant improvement in his performances over each and every cricketing season.
Marcus says that being out on the field playing the sport he loves is a true honour so every time he goes out onto the park it is always with the intention of having fun and giving of his very best. Competing hard, but at the same enjoying every minute of the competitive atmosphere.
Outside of cricket, Marcus recently entered Western University as a first year Kinesiology student. He hopes to get into Medical school after he completes his program and intends to work towards becoming a sports physician. A professional career as a sports medicine physician for a professional team is his ultimate goal.
The way his cricketing development is progressing he may soon however, find himself having to contemplate an alternative, short-term career, as a Canadian professional cricketer. Definitely One To Watch For The Future!