Cricket New Brunswick has expressed its gratitude and appreciation to Cricket Canada for the latter's provided support in the redevelopment of the St John's Cricket Ground. This has helped Cricket New Brunswick to successfully host CNB League games, attract more players and fans, as well as growing Cricket's profile in Saint John.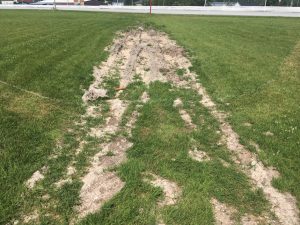 At the start of the season it was discovered that the existing cement pitch at the St John's Cricket ground had sustained a fair amount of damage during the previous winter. As a result a second layer of cement had to be laid on top and leveled, thereby increasing the pitch's height by up to 2 inches. A lot of soil was added to blend the surrounding areas of the pitch. New grass seeding was done in that soil area, in addition to which other areas that were uneven were leveled and the ditches filled.
The share of committed funds from Cricket New Brunswick was fulfilled by Saint John Cricket Club, which made it their home ground. With the ground and pitch having been refurbished, Saint John Cricket Club's membership subsequently grew from 24 to 40.
This then allowed the formation of another club in Saint John for University of New Brunswick students. Having so many players in the same city also allowed SJCC to run an internal summer League with 3 teams of various game formats, T20, 15 overs and 30 overs.
With such a successful summer season completed this year, SJCC is looking to add-on a new cricket oval inside the same Exhibition Park area on the south end.
Cricket New Brunswick's overall membership increased from 80 in 2017 to 110 in 2018 (37.5% growth). And with the addition of a new club in Moncton even further growth is now being envisioned in 2019. This has also created a demand to have one more ground in Moncton, for which the local club is working with the municipality to look for an appropriate size ground for them. There has been an influx of new
immigrants to New Brunswick from Cricket playing nations. Continued membership growth is therefore
anticipated.